Technical Specifications
Item : Urine drug rapid test
(Range include AMP, BAR, BEN, COC, KET, Marijuna, MET, MDma, MOR, OPI, PHEN, Tricyclic Antidepressants, EDDP, Tramadol)
Specimen : urine
Format : Multi-panel drug cup (5 - 10 parameters)
Result : 3 - 5 mins
Shelf life : 24 - 36 months
Storage : Room temperature 2-30°C
Available Packaging includes
- 5 parameters drug-cup
- 6 parameters drug-cup
- 7 parameters drug-cup
- 8 parameters drug-cup
- 9 parameters drug-cup
- 10 parameters drug-cup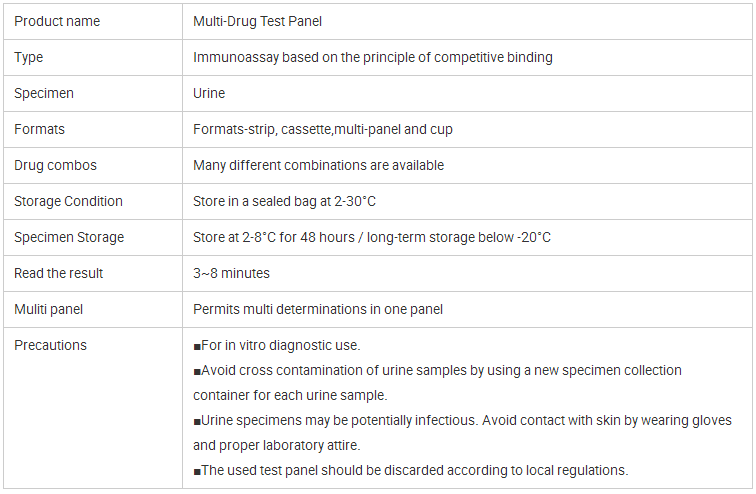 Product Advantage
The Multi-Drug Test Panel is a lateral flow chromatographic immunoassay for the qualitative detection of multiple drugs and drug metabolites in urine at critical concentrations.
Product Description
Product Description
Principle of Drugs Rapid Test Cup
The Multiple Drugs Test Cup is an immunoassay based on the principle of competitive binding. Drugs that may be present in the urine specimen compete against their respective drug conjugate for binding sites on their specific antibody.
During testing, a portion of the urine specimen migrates upward by capillary action. A drug, if present in the urine specimen below its cut-off concentration, will not saturate the binding sites of its specific antibody. The antibody will then react with the drug-protein conjugate and a visible colored line will appear in the test line region of the corresponding drug strip. The presence of drug above the cut-off concentration in the urine specimen will saturate all the binding sites of the antibody. Therefore, no colored line will form in the test line region.
A drug-positive urine specimen will not generate a colored line in the specific test line region of the strip because of drug competition, while a drug-negative urine specimen will generate a line in the test line region because of the absence of drug competition. To serve as a procedural control, a colored line will always appear at the control line region, indicating that proper volume of specimen has been added and membrane wicking has occurred.
FAQ
1.We are based in Guangdong, China, start from 2021,sell to Africa(30.00%),South Asia(15.00%),Mid East(10.00%),Domestic Market(10.00%),North America(5.00%),South America(5.00%),Eastern Europe(5.00%),Southeast Asia(5.00%),Oceania(5.00%),Eastern Asia(5.00%),Western Europe(5.00%),Central America(5.00%),Northern Europe(5.00%),Southern Europe(5.00%). There are total about 51-100 staffs in our office.

2. How can we guarantee quality?

Always a pre-production sample before mass production;

Always final Inspection before shipment;

3.What can you buy from us?

Test kit,In Vitro Diganositc,Disposable Samplers,Rapid test kits,Swab

4. Why should you buy from us not from other suppliers?

We focus on producing virus nucleic acid detection kits, Disposable samplers, IGG/IGM rapid test kit, PCR test kit etc.The products approved CE, FDA, SGS, ISO13485.More than 200 staffs, 10 production line.

5. What services can we provide?

Accepted Delivery Terms: FOB,CFR,CIF,EXW;

Accepted Payment Currency:USD,EUR,HKD,CNY;

Accepted Payment Type: T/T,Credit Card,PayPal, Western Union,Escrow;

Language Spoken:English,Chinese,Spanish,Japanese,Portuguese,German,French,Russian,Korean

6.Can I have samples of this goods to test the quality?

Yes, free sample is available.

7.What's the delivery time and can you lower the price?

It depends on your order. The delivery time is within 3-4 days. If you have large quantities,the price and delivery time can be negotiable.

8.Can I customize the packaging and the logo?

Yes, we could offer customized logo for you.

9.What's the shipping method?

We often use DHL, FedEx, UPS, TK,EK,LH to ship our products.

10. The PCR test kit is required to be stored at a temperature between -25 degrees Celsius and -15 degrees Celsius. How did you do it?

Most of our PCR detection reagents are transported in an incubator, and the temperature can be maintained at -20 degrees Celsius for about 12 days, which can fully meet the general air transportation time limit.