Technical Specifications
Applicable scope
For human body input oxygen
Advantage
It is composed of nose plug, connecting pipe and joint. The traditional molding and various combination configurations can meet the needs of different oxygen inhalation.
The pipeline internal thread design, pressure proof anti fold, smooth oxygen.
The nose making delicate, no burr, the material is soft, comfortable to wear.
Instructions
This product should be operated by professional personnel. The medical staff who use this product should be trained by corresponding techniques. Aseptic operation should be adopted when using the product.
Matters needing attention
1. this product is sterilized by ethylene oxide and only for one time use. The products are sterile, non-toxic and pyrogen free before the packaging is opened or damaged. If the package is damaged, it is forbidden to use. Post destruction.
2. this product should be stored in relative humidity of no more than 80%, no corrosive gas and well ventilated room.
3. in the provision of transport and storage conditions, the product of self sterilizing date, valid for two years. The product is beyond the validity period of sterilization and shall not be used.
4. doctors should pay attention to check the patency of nasal oxygen tube in the use of nasal oxygen tube.
Product Advantage
Green color and white transparent color are both available
Transparent clear tube is helpful for inspection of gas delivery
Non-toxic PVC is available
Softer nose tip can be chosen
Available of three basic sizes, L M S, suitable for adult, children and infant use
Individual peelable polybag or blister pack Sterile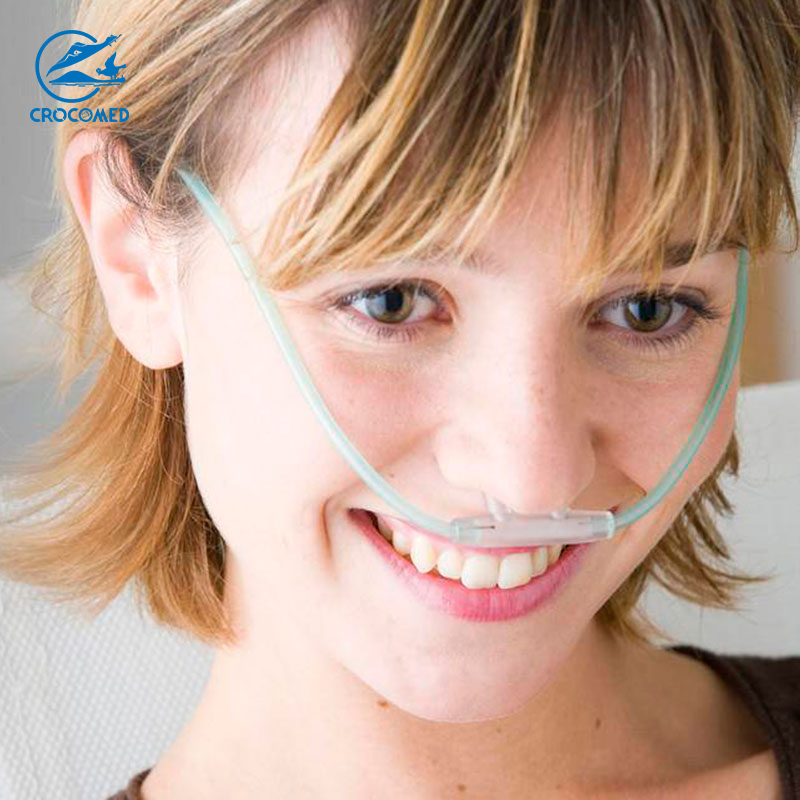 Product Description
The Nasal Oxygen Cannula is an transporting Oxygen device with double channels,It is used to deliver supplemental oxygen to a patient or person in need of extra oxygen.

The Nasal Oxygen Cannula is made from PVC in medical grade, consists of connector, mail connected tube, three channel conector, clip, branch connected

tube,nostril sucker.



FAQ
1.We are based in Guangdong, China, start from 2021,sell to Africa(30.00%),South Asia(15.00%),Mid East(10.00%),Domestic Market(10.00%),North America(5.00%),South America(5.00%),Eastern Europe(5.00%),Southeast Asia(5.00%),Oceania(5.00%),Eastern Asia(5.00%),Western Europe(5.00%),Central America(5.00%),Northern Europe(5.00%),Southern Europe(5.00%). There are total about 51-100 staffs in our office.

2. How can we guarantee quality?
Always a pre-production sample before mass production;
Always final Inspection before shipment;

3.What can you buy from us?
Test kit,In Vitro Diganositc,Disposable Samplers,Rapid test kits,Swab

4. Why should you buy from us not from other suppliers?
We focus on producing virus nucleic acid detection kits, Disposable samplers, IGG/IGM rapid test kit, PCR test kit etc.The products approved CE, FDA, SGS, ISO13485.More than 200 staffs, 10 production line.

5. What services can we provide?
Accepted Delivery Terms: FOB,CFR,CIF,EXW;
Accepted Payment Currency:USD,EUR,HKD,CNY;
Accepted Payment Type: T/T,Credit Card,PayPal, Western Union,Escrow;
Language Spoken:English,Chinese,Spanish,Japanese,Portuguese,German,French,Russian,Korean

6.Can I have samples of this goods to test the quality?
Yes, free sample is available.

7.What's the delivery time and can you lower the price?
It depends on your order. The delivery time is within 3-4 days. If you have large quantities,the price and delivery time can be negotiable.

8.Can I customize the packaging and the logo?
Yes, we could offer customized logo for you.

9.What's the shipping method?
We often use DHL, FedEx, UPS, TK,EK,LH to ship our products.

10. The PCR test kit is required to be stored at a temperature between -25 degrees Celsius and -15 degrees Celsius. How did you do it?
Most of our PCR detection reagents are transported in an incubator, and the temperature can be maintained at -20 degrees Celsius for about 12 days, which can fully meet the general air transportation time limit.