Technical Specifications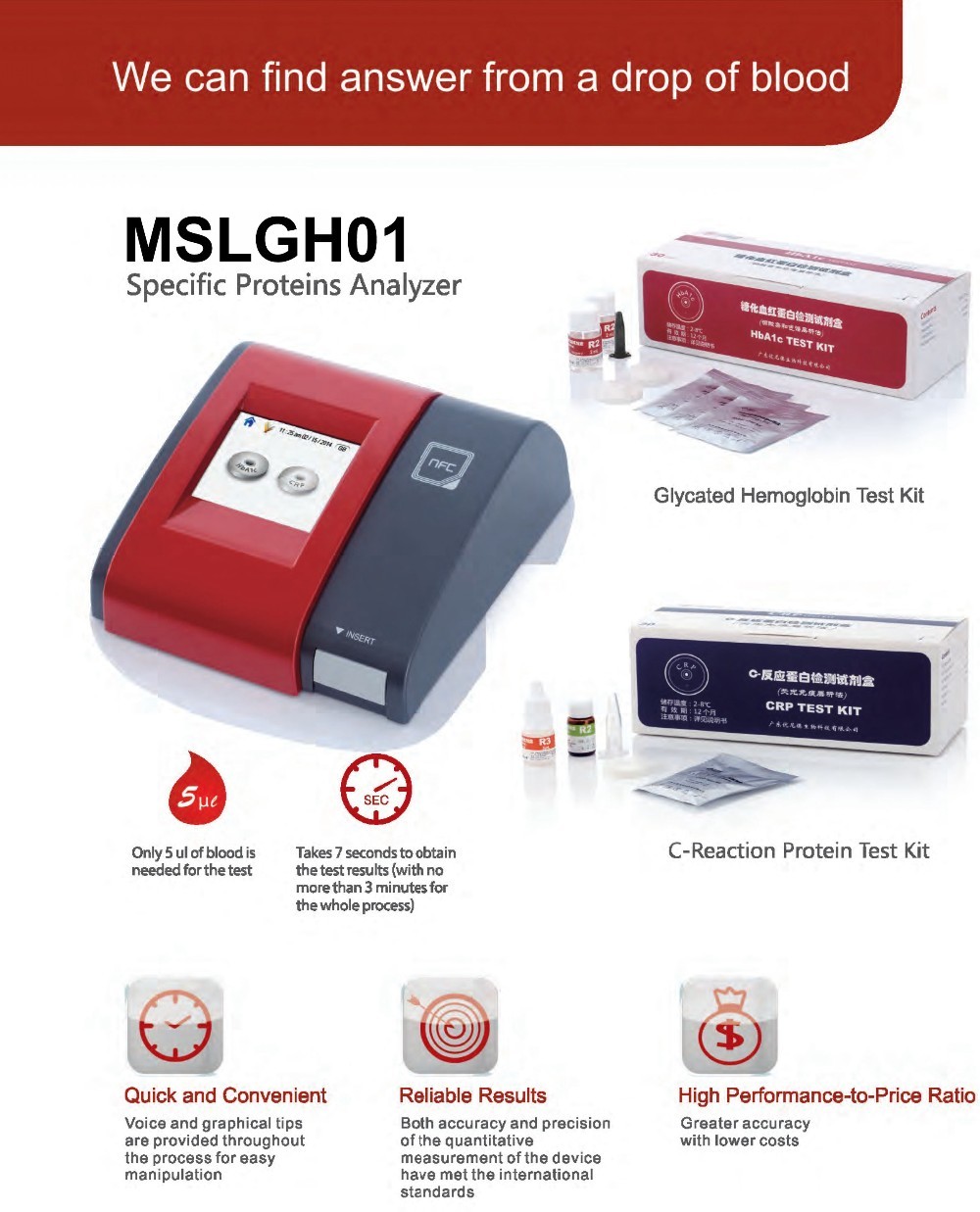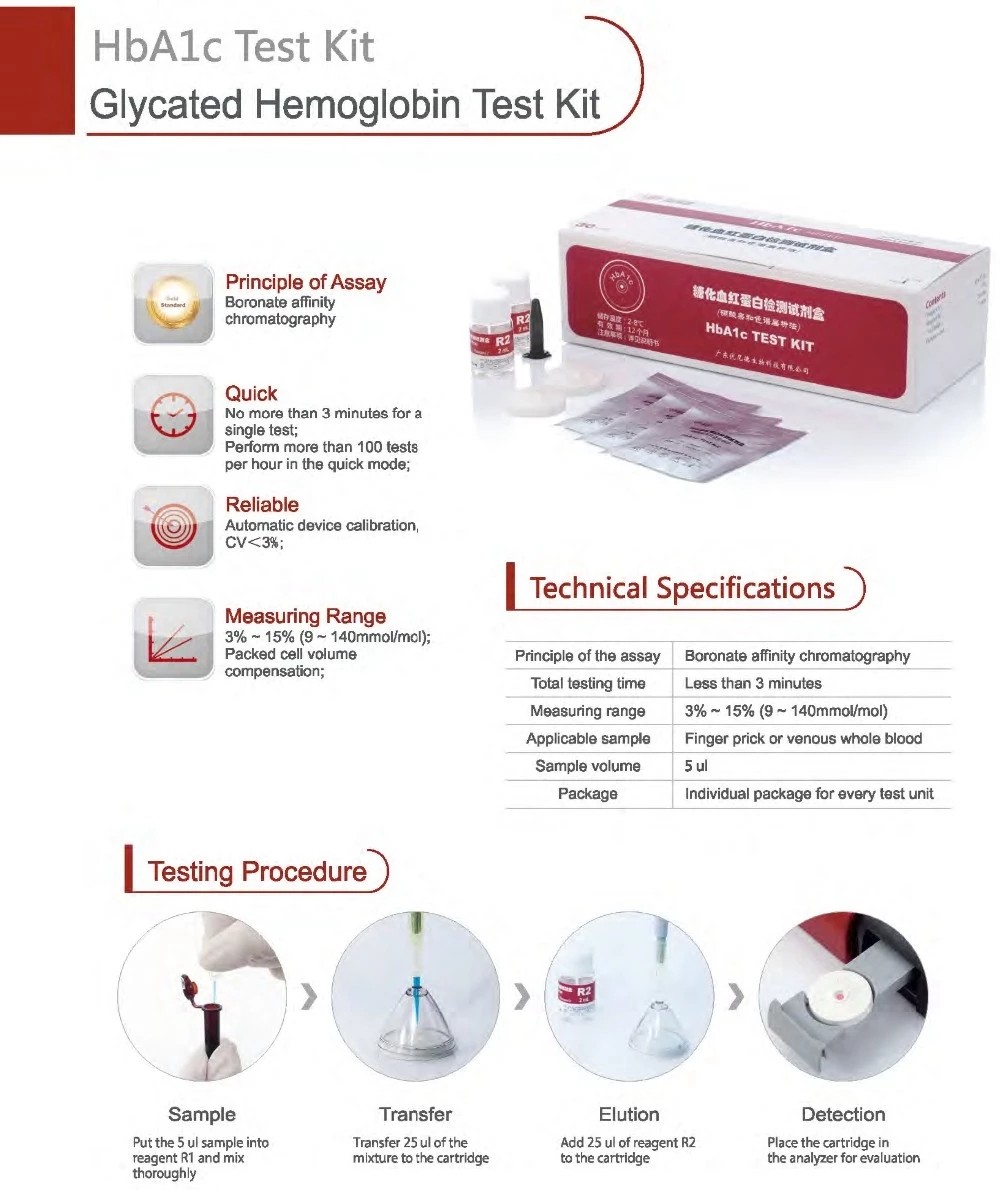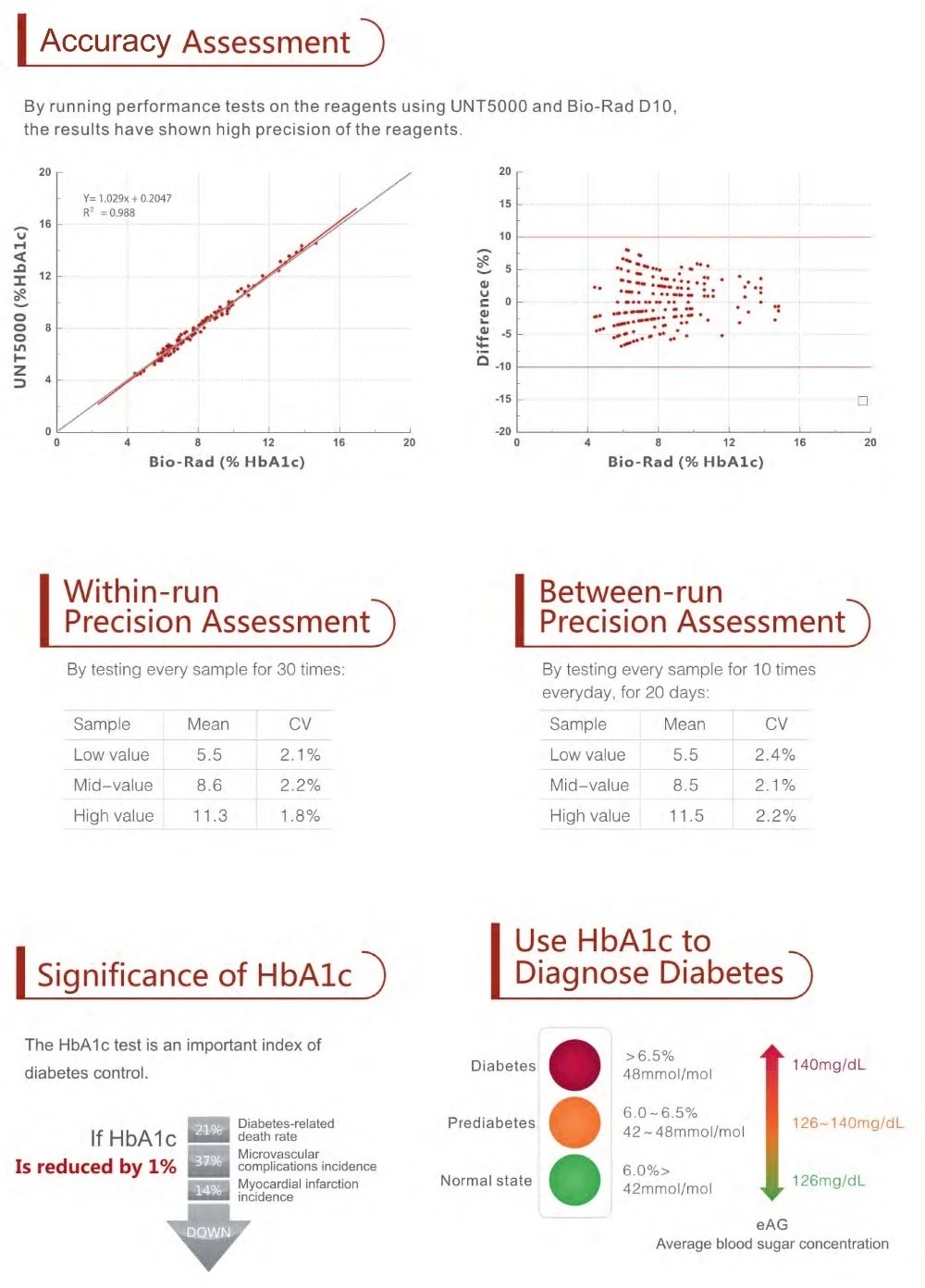 Product Advantage
Best price of glycated hemoglobin hba1c analyzer,Specific Protein Analyzer MSLGH01

Repeatability
Coefficient of Variance (CV) ≤1.0%
Detection deviation Detection deviation ≤10.0%
Linearity
In no less than an order of magnitude, and within five concentrations of detection range, the correlation coefficient is not less than 0.9900.
Stability
After turning on the device, use it to do tests in 0.5 hour, 1 hour, 2 hours, and 3 hours, the coefficient of variance (CV)
of each point of time should be ≤1.0%, detection deviation should be ≤10.0%.
Detection time
The whole process of the test, from placing the cartridge on the calibration plate until the result is displayed should be not over one minute.
Normal operation conditions
After the analyzer is powered, it should be able to turn on and turn off normally.
After turning on the device, the screen will turn bright and automatically enter the test interface.

Product Description

FAQ
1.We are based in Guangdong, China, start from 2021,sell to Africa(30.00%),South Asia(15.00%),Mid East(10.00%),Domestic Market(10.00%),North America(5.00%),South America(5.00%),Eastern Europe(5.00%),Southeast Asia(5.00%),Oceania(5.00%),Eastern Asia(5.00%),Western Europe(5.00%),Central America(5.00%),Northern Europe(5.00%),Southern Europe(5.00%). There are total about 51-100 staffs in our office.

2. How can we guarantee quality?
Always a pre-production sample before mass production;
Always final Inspection before shipment;

3.What can you buy from us?
Test kit,In Vitro Diganositc,Disposable Samplers,Rapid test kits,Swab

4. Why should you buy from us not from other suppliers?
We focus on producing virus nucleic acid detection kits, Disposable samplers, IGG/IGM rapid test kit, PCR test kit etc.The products approved CE, FDA, SGS, ISO13485.More than 200 staffs, 10 production line.

5. What services can we provide?
Accepted Delivery Terms: FOB,CFR,CIF,EXW;
Accepted Payment Currency:USD,EUR,HKD,CNY;
Accepted Payment Type: T/T,Credit Card,PayPal, Western Union,Escrow;
Language Spoken:English,Chinese,Spanish,Japanese,Portuguese,German,French,Russian,Korean

6.Can I have samples of this goods to test the quality?
Yes, free sample is available.

7.What's the delivery time and can you lower the price?
It depends on your order. The delivery time is within 3-4 days. If you have large quantities,the price and delivery time can be negotiable.

8.Can I customize the packaging and the logo?
Yes, we could offer customized logo for you.

9.What's the shipping method?
We often use DHL, FedEx, UPS, TK,EK,LH to ship our products.

10. The PCR test kit is required to be stored at a temperature between -25 degrees Celsius and -15 degrees Celsius. How did you do it?
Most of our PCR detection reagents are transported in an incubator, and the temperature can be maintained at -20 degrees Celsius for about 12 days, which can fully meet the general air transportation time limit.